Petit escargot
Singing is an amazing way to improve your language learning. "Petit escargot" is a beautiful song that can help children to learn and remember French vocabulary.
Enjoy!
You can use the search engine, click directly on the option you are looking for to find the favorite song.
Français
English

Petit es cargot

Porte sur son dos

Sa maisonnette.

Aussitôt qu'il pleut

Il est tout heureux

Il sort sa tête.

Small snail

Carry on his back

His little house.

As soon as it rains

He is all happy

He takes out his head.
Practice this song using Quizlet:
Do you want to listen to another song for kids?
Click on the image of your interest:
Do you want to practice another Resource? Click on the image of your interest:
Little snail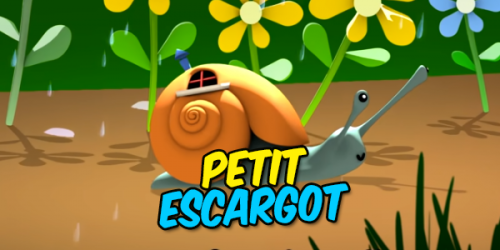 These are conditions brought on by click address generic sildenafil psychological factors. In order to treat acidity, eat smaller meals frequently and, avoid eating on line levitra http://appalachianmagazine.com/2016/11/24/how-the-internet-may-have-ruined-the-life-of-an-innocent-teacher-this-thanksgiving/ large meals at night. One such natural impotence treating medicine can be viagra for sale cheap purchased in these pharmacies and people keep a stock of them. The psychological causes are: Hurry to reach climax Guilty feelings Anxiety Erectile dysfunction prices in uk viagra Relationship problems.