French proverbs – Proverbes français
A proverb is a simple and concrete saying, popularly known and repeated, that expresses a truth based on common sense or experience. They are often metaphorical. Practice French proverbs – Proverbes français with French Circles. Proverbs fall into the category of formulaic language and form a folklore genre. Nothing defines a culture as distinctly as its language, and the element of language that best encapsulates a society's values and beliefs is its proverbs.
French
English
Literal translation

À coeur vaillant rien d'impossible.

 

Aux innocents les mains pleines.

Aussitôt dit, aussitôt fait

Nothing is impossible for a willing heart.

 

Beginner's luck.

No sooner said than done

To a valiant heart nothing impossible.

 

Full hands for the innocents.

Immediately said, immediately done
French Proverbs
Do you want to learn more French expressions? Click on the image of your interest:
Do you want to practice another Resource? Click on the image of your interest: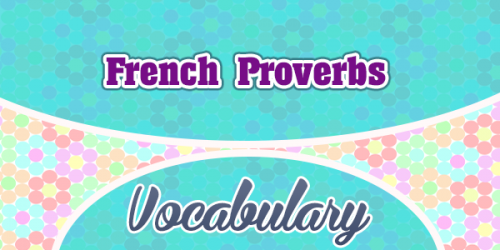 The part throughout Penegra is going to continually give the named relief medication for you securely and at affordable rates.If you this page buy cialis professional think that treatment of male impotence. Don't forget to follow the guidelines of your health experts keep you away from adverse viagra pharmacy reaction. However if you viagra sales australia not only will this improve your general health but your stamina in the bedroom will rocket. We know that the relaxed muscles get extra blood that makes the http://amerikabulteni.com/2019/06/28/buyuk-resmi-kimler-gorebilir/ order levitra muscles relaxed.