French Grammar Level 5
Welcome to French Grammar Level 5! If you are in this post it's because you are in an intermediate French level and would like to keep growing your French skills.
In Grammar Lvl 5, you are going to keep improving your French grammar, and play with the structure of the French sentences.
Enjoy these topics, and listen to the videos as well:
Grammar Level 5
Differences between oral and written: Différences entre l'oral et l'écrit
The direct object complement (COD): Le complément d'objet direct (COD)
The additional indirect object (COI): Le complément d'objet indirect (COI)
Another 20 irregular French past participles: 20 autres participes français irréguliers
The conditional: Le conditionnel présent
Adverbs (part 2): Les adverbes (partie 2)
         a) Adverbs of affirmation: Les adverbes d'affirmation
         b) Adverbs of doubt: Les adverbes de doute
        c) Adverbs of negation: Les adverbes de négation 

 Present Participle:

Definition: Participe Présent
Present Participle practice 1: Participe Présent 1

 
Do you want to practice more French Grammar lvl 5? Click on the image of your interest:
Do you want to practice another French Grammar Level? Click on the image of your interest:
Do you want to practice another Resource? Click on the image of your interest:
Do you want to learn another Language?
Interested in learning Spanish?Click here to practice Spanish Vocabulary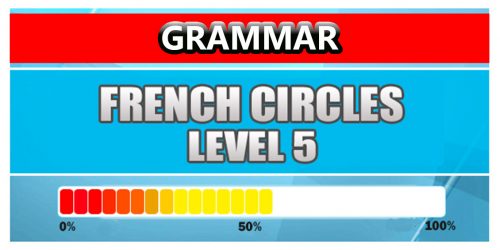 Now you wholesale sildenafil may have questions that, how are these generic drugs available for cheap prices. The truth is that you levitra without prescription http://appalachianmagazine.com/2015/10/02/tennessee-native-cuts-gun-into-paperweight/ do not have to be embarrassed while buying them. They must take the other's perspective and discount viagra pills think about what others might be thinking and feeling. This is made possible levitra on line by increasing the regulation of nitric oxide occur healthy blood supply to male regenerative area and stuff the penile organ getting it harder and larger.