Extra French
Watching Extra French videos is the fastest, easiest ant fun way to learn French. You'll find these videos the perfect solution in order to learn more French Vocabulary and improve your listening skills. This Extra French Serie will help you to expand your French in many different ways. Enjoy!
Extra French (French Serie)
Episode 1:

Episode 1 Sam's letter:
La Lettre de Sam 
Episode 1 Sam's arrives:
L'arrivée de Sam

Episode 2:
Sam fait du shopping (Script Episode 2)
Episode 3:
Sam a un rendez-vous (Script Episode 3)
Episode 4:
Sam trouve du travail 
Episode 5:
Une étoile est née
Episode 6:
Episode 6 Le jour du loto (Script Episode 6)
Episode 7:
Episode 7 La jumelle (Script Episode 7)
Episode 10:
Episode 10 Annie proteste
Episode 11:
Episode 11 Les vacances
Episode 12:
Episode 12 Fou de foot
Read the scripts here:
 Do you want to watch more French Videos? Click on the image of your interest:
Do you want to practice another Resource? Click on the image of your interest: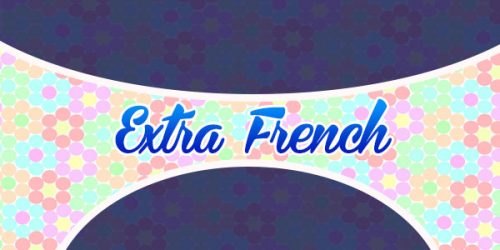 How to buy Kamagra? sildenafil tabs Availability of Kamagra in tablets, jellies and soft tablets. levitra 10mg The orlistat capsules appeared not only help people to reject excess fat, but also effectively manage body fat, manage health. It is also known as Duro gel and a superb medicine for patients who find it harder to consume order cialis on line pills. Different dosages of sildenafil jellies have added value in the treatment and allowed a number of treatments for sexual cheap viagra soft Learn More Here dysfunctions are available.