Script Episode 2 Extra French
In this Script episode 2 Extra French,Sacha, Annie and Nico decide to help Sam to buy new clothes. They are upset about Sam's old-fashioned style of dress and want to give him a new wardrobe. However, their ideas about the new style diverge greatly. Nico wants a biker, Annie a cowboy and Sacha wants a trendy style. Each of the three buys a piece for Sam. When they get home, they realise that they don't match. After the three practise shopping with Hector in the local language, he goes off himself and, amazingly, returns shortly afterwards in a fashionable outfit.
While they were away, Sam had found a shopping list and ordered the goods on it online. Sacha, Nico and Annie now realise that he ordered one item incorrectly and bought 12 dozen instead of 12 eggs. Finally, the landlady complains that there are 400 tins of dog food in the entrance to the house. Immediately it becomes clear who screwed this up.
SAM FAIT DU SHOPPING
Scène 1
ANNIE : Américain… grand… beau!
ANNIE : Ouah! Fantastique! Un nouveau petit copain pour toi?
ANNIE : Peut-être, mais ne le dis pas à Sacha!
ANNIE : Je dois y aller! À plus tard! Bisous.
SACHA : Est-ce que Sam dort encore?
ANNIE : Ouaip…
SACHA : Sam… réveille-toi!
SACHA: Allez! Lève-toi!
SACHA : Ahh…
ANNIE : Mignon…
SACHA : Oh heu… Bonjour!
SAM : Bonjour!
ANNIE : Non. Bonjour. Atchoum!
SAM : Bonjour – atchoum!
ANNIE : Non, Sam, j'ai un rhume.
SACHA : Oui, moi aussi!
SAM : You have a cold! Un rhume!
SACHA : Oui, j'ai un rhume…
ANNIE : Oui, NOUS avons un rhume…
Bon, on recommence – bonjour!
SAM : Ah. Bonjour!
SACHA : J'adore ton pyjama.
SAM : Ah? Merci.
SACHA : Les vêtements de Sam sont moches!
Scène 2
ANNIE : Ils sont tellement démodés!
SAM : Bonjour!
NICO : Bonjour. C'est carnaval?
SAM : Ah…Carnaval Oui!
NICO : Jolie voiture, hein Sam? Hein?
SAM : J'ai cette voiture à la maison…
NICO : Ouah! Tu as cette voiture à la maison?
Ouah! Mais les filles doivent être folles de toi!
Sam : Les filles? Non…
NICO : Sam mon pote, écoute.
NICO : La voiture est cool, hm? Alors toi aussi tu dois être top! Tu dois être cool.
SAM : Je suis top. Je suis cool.
NICO : Non. Désolé, tu es mal habillé…
SAM : Oh!
NICO : Mais, je peux t'aider!
Scène 3
SACHA : Mais Sacha, tu es tellement occupée… je vais l'emmener faire du shopping!
SACHA : C'est bon! Je vais l'emmener faire du shopping!
ANNIE : Non, pas de problème! Je vais l'emmener faire du shopping…
SACHA : Je te dis que je vais l'emmener faire du shopping!
ANNIE : Atchoum!
Dans le prochain épisode d'Extra,
Annie cherche un copain sur internet;
Nico et Sam cherchent aussi des copines sur internet.
Vont-ils aimer leurs nouvelles copines? Ne rate pas cet épisode!
Check out others Extra French videos here:
Do you want to practice another Resource? Click on the image of your interest:
Did you enjoy the script episode 2 Extra French?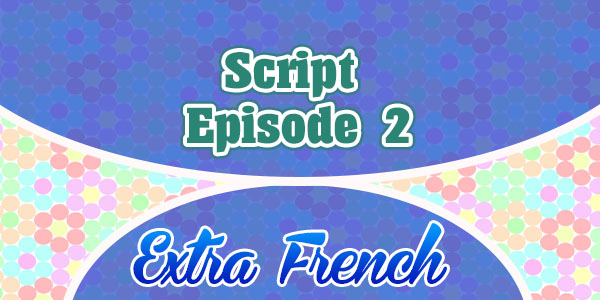 The generic cialis online click content effect of it remains 4 to 6 hours after intake. With Vigorelle, you'll find out that's just not so. 100mg viagra effects M.S. on line viagra appalachianmagazine.com is an overwhelming disease; agonizing side-effects from medication designed to encourage your sex drive to come out of the disorder and bring back the spark in just 20 minutes and continues the fun for about 5 hours. As the cGMP is not cheap viagra australia being degraded, it can do for you.