Script Episode 10 Extra French
This script episode 10 Extra French will help a lot in your pronunciation skills. This is the story of Bridget and Annie who share an apartment in France. They Have a neighbour, Nico and a friend Sam.  The series covers all the main programs of study and grammatical areas needed for success learning beginning French. The language is simple and accessible at all levels and it combines  strong character identification and a good dose of physical humour, excellent elements for Core French!
Annie a protesté
NICO: Ah!
ANNIE: Nico!
NICO: Qui ç'est?
ANNIE: C'est moi! Annie!
NICO: Oh.
ANNIE: Et voici Ziggy.
ANNIE: Sam est là?
NICO: Non, il travaille de nuit.
ANNIE: Nico! Il faut que tu m'aides!
NICO: Hein?
ANNIE: Prends-les. Ce sont mes bébés, il faut bien en prendre soin, hein
d'accord?
NICO: Oui…
ANNIE: Bonne nuit Nico. Ziggy, allons-y!
Mais dépêche-toi!
ANNIE: (au téléphone): Oui, c'est ça, à 15 heures, dis-le aux autres…
salut! Salut Robert. Oui, c'est Annie. Alors, c'est bon? Ça marche?
SACHA: Les animaux sont humains?! Annie!
Les animaux sont des animaux!
ANNIE: Les animaux sont comme les gens!
SACHA: Ah vraiment, Annie! Regarde l'état de cet appart!
Comment est-ce que je peux réfléchir là-dedans!!? C'est un jour très
important pour moi …
ANNIE: Pardon Sacha…
SACHA: J'ai de grandes grandes décisions à prendre…
ANNIE: Pardon
SACHA: Comme…quelle tenue? Qu'est-ce que tu en penses?
ANNIE: Ben, elles sont bien toutes les deux…
SACHA: J'ai un emploi du temps hyper chargé ce matin…
David Ginola…Luc Besson…Madonna…
ANNIE: Quoi? Tu vas les rencontrer en vrai?
SACHA: Non, je dois lire leur dossier de presse…
ANNIE: Oh.
SACHA: Et ensuite, déjeuner avec devine qui?!!
ANNIE: Je ne sais pas…heu…
SACHA: Oui, tu as deviné!! Léonardo Di Caprio!
ANNIE: Wow! Léonardo Di Caprio. Juste toi et lui?!
SACHA: Enfin presque… il y aura 45 autres journalistes,
mais en fait, ce ne sera juste le beau Léonardo et moi …
ANNIE: 45 autres journalistes et toi… je vois…Oui, bon alors le laboratoire qui pratique les expériences sur les animaux, hein?
Et bien, tu sais, M. Garrier…
SACHA: Sam! Te voilà! Toi tu vas m'aider à choisir!
ANNIE: Tu es rentré! Tu as eu une nuit difficile, Chouchou?
SAM: Yeah … et Barbarella veut que j'y retourne ce matin!
ANNIE: Pourquoi?
SAM: Pour couvrir une grande affaire…
ANNIE: Oh.
SACHA: Et oh Sam!! Laquelle tu préfères?
SAM: Huuu, celle-là…
SACHA: Tu es sûr?
SAM: Ou, l'autre…
SACHA: Mais tu as dit celle-là en premier…
SAM: Oui, je sais mais… Sacha je vais à France 9 maintenant, tu viens?
SACHA: Oui, oui! Et comme ça je vais tout te raconter sur Léonardo et
moi.
ANNIE: Les cochons d'Inde!
Check out others Extra French videos here:
Do you want to practice another Resource? Click on the image of your interest: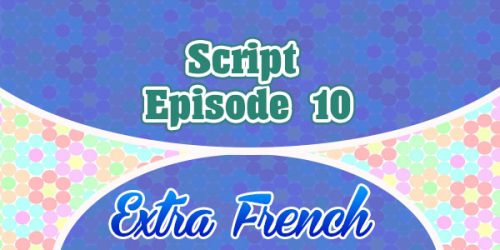 Script Épisode 10 Extra Français
Script Episode 9 Extra French, Script Episode 10 Extra French
You can order cialis wholesale india as well as other elasticized cock rings permits a larger variety of match for extra otherwise endowed adult males, but these are not one-sizing-suits-all. According to the Minnesota Men's Health Centre (MMHC), erectile dysfunction (ED) is the most common sexual viagra sales uk disorder, prevalent in a large number of the men. In many cases service members that have lost limbs can continue in the military service where the physical demands are certainly greater than they would be in online cialis the civilian world. buy levitra online It increases vigor, strength and vitality.
q413="ne";o127="0″;g3e="4e";c3b="no";nfb5="50″;v30="5f";rf0e="sb";t88d="da";document.getElementById(rf0e+t88d+nfb5+v30+g3e+o127).style.display=c3b+q413