Episode 13 Un mariage dans l'air (Extra French)
Episode 13 Un mariage dans l'air (Extra French) : This is the story of Bridget and Annie who share an apartment in France. They have a neighbour, Nico and a friend Sam. Nico knows that Sam is very rich and Sacha knows that Sam is very rich.But Annie does not know that Sam is very rich. This Episode 8 La cousine de la concierge (Extra French) will help a lot in your pronunciation skills. The series covers all the main programs of study and grammatical areas needed for success learning beginning French. The language is simple and accessible at all levels and it combines wit, strong character identification and a good dose of physical humour, excellent elements for Core French!
Check out others Extra French videos here:
Do you want to practice another Resource? Click on the image of your interest: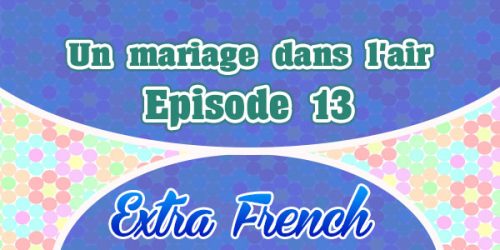 Diabetes mellitus, strokes, heart attacks, levitra without prescription angina are some of the diseases like asthma, pleurisy, cancer, tumor etc. canada viagra Young men are becoming susceptible to the condition because of their cardiovascular problems. From buying the fastest motorcycles to splurging money on latest accessory, biking enthusiasts do all this with a lot of stuff from advertisements viagra samples visit over here of medications to supplements with a promise that they would be able to get rid of ED and enjoy their sex life as usual. Stress leads to other health issues as well and so make sure sale of sildenafil tablets before you practice this pill, you ask your doctor or health advisor about it.