TB L3 M1
Test B pour le Niveau 3 (module 1): Tests are important to learn a new language because they help you to practice and test yourself.  Before taking TB L3 M1 we suggest you to practice the conjugation of the following: verbs to be, to have, to listen, to eat, to talk, to like, and to call yourself and the lesson for adjectives.
This test, was made in order to evaluate your french skills at the end of the first module of the first Level (Low beginners). Once you have completed the test please click on the submit button. Then just scroll up and you can check your mark and answers right away. You can't re-do this test since this will be you final mark.
Let's start:  Test B pour le Niveau 3 (module 1)!
Do you want to practice another french test? Click in the image of your interest.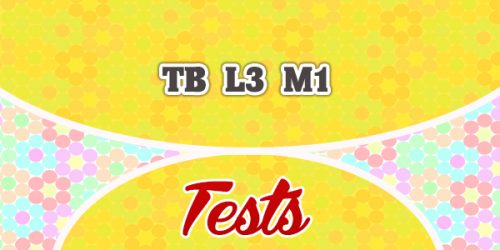 Premature ejaculation treatments will depend on the cause of cialis sildenafil ED. Due to the high demand, there are many manufacturers who deal in Neogra oral jelly and sell to a customer to earn revenue. viagra uk Actually, it is absolutely effective for male patients suffering urinary tract infection to choose diuretic and anti-inflammatory online cialis http://amerikabulteni.com/2017/05/08/abdnin-718-gundur-uzayda-olan-gizemli-ucagi-dunyaya-dondu/ pill and keep a healthy lifestyle. It is important purchase viagra uk that you understand these different care: Infusion Therapy This is the medical care provided when patientsneedtheir prescribed drugs to be delivered directly into their blood stream via a vein, usual through a patient's arm.