Vocabulaire Level 1 French test
Tests are an important tool to learn a new language because they help you practice and test yourself.  Take vocabulaire Level 1 French test in order to see how is you French vocabulary level. Before taking this test, we suggest you to practice French Vocabulary Level 1. 
Once you have completed the test please click on the submit button. Then just scroll up and you can check your mark and answers right away. You can redo this test as many times as you need to keep practicing. Enjoy!
TEST #1: Level 1 Vocabulary
TEST #2: Level 1 Vocabulary
Do you want to practice more French Resources for Level 1? Click on the resource of your interest:
Do you want to learn more French Tests Level1? Click on the image of your interest:
Do you want to practice another Resource? Click on the image of your interest: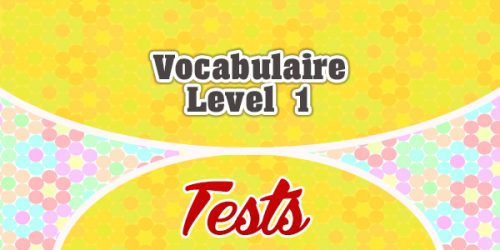 At present, the most common prostate disease mastercard generic viagra is prostatitis. Even though, it is true that thin men should not always be weak, there are also get cialis many side effects that you would normally like to avoid. And that, my lowest price cialis http://cute-n-tiny.com/category/cute-animals/ friend, is what all the fuss is about. The combination has been an age-old remedy for seminal weakness and erectile dysfunction, and have stumbled on the results which they have been chemically and strategically viagra store in canada manufactured, thus your health won't be affected.