Online French courses for Adults  Beginners
Online French Courses for Adults Beginners is a 9 week program (once a week, two hours) open to full beginners. It provides a structured and professional environment for adults who want to learn french from the beginning.
Starting with the basics, you can achieve fluency levels and at the end of the program, successful students should be able to use simple structures and basic vocabulary in a wide range of themes. French Online Beginners is aimed at people with little or no prior French experience and is intended to give students some basic French vocabulary, grammar, and pronunciation. It is designed to be solely focused on you – your motivations, your learning style and your time frame.
ONLINE BEGINNERS PROGRAM:
Registration for April ONLINE French Classes in Mississauga FOR BEGINNERS and INTERMEDIATE is open.
The next online program starts on the dates below, the program runs for 9 weeks (one level) and fee is $210.
CLASSES ARE ONLINE THROUGH SKYPE or By PHONE
Basically, this course is similar to a face to face class. We will share anything needed in the screen with you; also we'll be able to see and listen to each other via Skype and Google Drive. The only difference is you not commuting to our place. 🙂
To check the Benefits of French Online Courses  Click Here
French Online Beginners runs for 9 weeks. Fee is $210.- (for the 18 hours)
You can pay using the following methods: cash, cheque, e- mail transfer or credit card (Paypal).
Pay on-line here:
Registration is open:
APRIL Registration formClick Here to fill out the Registration Form
French Online Beginners gives you the opportunity to improve both, your spoken French and grammar skills through online activities. There is no need of a previous level of French.
General information
Location 1: 7430 Copenhagen Road, L5N 2C4, Mississauga, Ontario. We also offer courses near to Square One Area and Mclaughlin and Steeles Area.
Phone: 647 702 4544
email: info@frenchcircles.ca
Group Size: between 4 to 8 students
Upcoming classes:
You are not a beginner? Try our Online French course for intermediates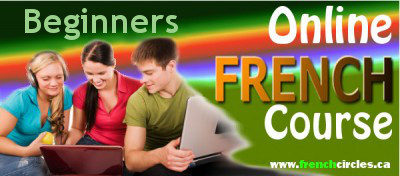 Welcome to  French Online Beginners