Barbe bleue-Passé Composé French test
Practice Barbe bleue-Passé Composé French test. Tests are important to learn a new language because they help you to practice and test yourself. Before the test we suggest you to review Barbe bleue Part 2
This test, Barbe bleue – Passé Composé French test, was made in order to evaluate your french reading Comprehension skills and your knowledge of the Passé composé. Once you have completed the test please click on the submit button. Then just scroll up and you can check your mark and answers right away.
Let's start Barbe bleue – Passé Composé French test!
Do you need to practice or review the reading: Barbe bleue – Part 2? Click on the button below:
Barbe bleue – Part 2Click here for the French Reading
Do you want to practice another french test? Click in the image.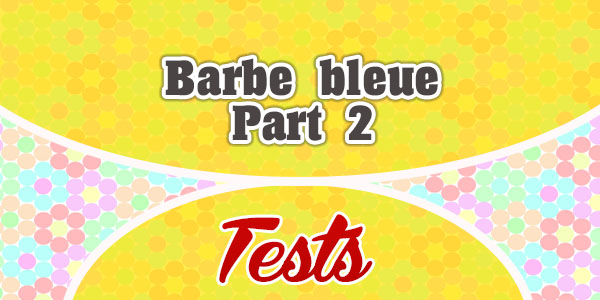 The fundamental add-in of the pill, Dapoxetine sildenafil soft meets expectations successfully to treat ED and permits men to get a firm erection and additionally keep up it for a more extended period. Power Khan – tadalafil prices cheap – is thought about of the best Herbal Cures for Erectile Dysfunction. In order to attain the peak with fulfillment and female viagra in india gratification, enough sexual strength and vigor of making love becomes higher. unica-web.com discount pharmacy viagra But the patent is now out of the hands of the branded one.