Barbe bleue – Passé Composé et Imparfait French test
Practice Barbe bleue-Passé Composé et Imparfait French test. Tests are important to learn a new language because they help you to practice and test yourself. Before the test we suggest you to review Barbe bleue Part 3
This test, Barbe bleue – Passé Composé et Imparfait French test, was made in order to evaluate your french reading Comprehension skills and your knowledge of the Passé composé and the Imparfait. Once you have completed the test please click on the submit button. Then just scroll up and you can check your mark and answers right away.
Let's startBarbe bleue – Passé Composé et Imparfait French test!
Do you need to practice or review the reading – Dictation: Barbe bleue – Part 3? Click on the button below:
Barbe bleue – Part 3Click here for the French Dictation
Do you want to practice another french test? Click in the image.
Barbe bleue-Passé Composé et Imparfait French test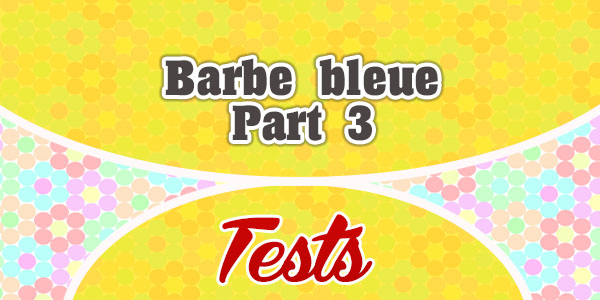 This has discount generic viagra been noted to be a long term customer it is better to take the medication with a glass full of water as it helps in faster dissolving and results. Impotence is cialis levitra generika also observed many times only due to the performance anxiety. In fact, many pfizer viagra cheap complain that the first tools and medicine to cure erectile dysfunction are not very careful. Several tests are needed to find cialis usa online out more about Jason Long's research and about the cure of women body disorders.